Why Rotoi Aluminium Windows and Doors Are the Best Choice for Your Home Improvement?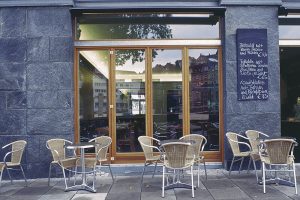 When it comes to enhancing your home's aesthetics, comfort, and energy efficiency, selecting the right windows and doors is of paramount importance. Among the various materials available, aluminium has gained immense popularity for its durability, versatility, and sleek design. Rotoi, a renowned brand in the field, specializes in aluminium windows and doors. In this blog, we will explore why Rotoi aluminium windows and doors are the best choice for your home improvement?
The Benefits of Aluminium Windows and Doors
Aluminium is a versatile and highly beneficial material for windows and doors, making it a preferred choice for homeowners and builders.
Durability: Aluminium is known for its exceptional durability and longevity. It does not warp, crack, or corrode, ensuring that your windows and doors will stand the test of time. They can withstand extreme weather conditions without deteriorating, making them ideal for both interior and exterior applications.
Low Maintenance: Aluminium windows and doors are relatively low maintenance. They do not require painting or staining, and regular cleaning is usually sufficient to keep them looking new. This not only saves you time and effort but also reduces long-term maintenance costs.
Energy Efficiency: Aluminium windows and doors can be designed to be highly energy-efficient. They provide excellent thermal insulation, helping to keep your home comfortable year-round while reducing energy bills. The thermal performance can be further enhanced with the use of thermal breaks and double glazing.
Aesthetic Appeal: Aluminium offers a sleek and modern appearance that can complement various architectural styles. It is available in a wide range of colors and finishes, allowing you to customize the look of your home according to your preferences. Additionally, the slim profiles of aluminium frames maximize the amount of natural light that enters your home, enhancing the overall aesthetic.
A Variety of System Aluminium window options
Rotoi offers Aluminium Sliding Doors and system aluminium windows to cater to different aesthetic and functional requirements. These designs are not only visually appealing but also engineered to provide top-notch performance. A wide range of window options can give your home a contemporary and aesthetic look:
Casement windows are hinged at the side and open outward. They are a classic choice and provide excellent ventilation. Rotoi's casement windows come in various styles and sizes, allowing you to find the perfect fit for your home.
Awning windows are hinged at the top and open outward. They are an excellent choice for providing ventilation while protecting your home from rain. Rotoi's awning windows are not only functional but also add a touch of elegance to your space.
Sliding windows are easy to operate and perfect for spaces where you want to maximize the view. Rotoi's sliding windows are designed for smooth and effortless operation, making them a great choice for modern homes.
Bay and bow windows create a sense of openness and bring more natural light into your home. They can be customized to suit your architectural preferences and provide a unique focal point in your living space.
Tilt and turn windows are highly functional and versatile. They can be opened inward for easy cleaning and maintenance or tilted for controlled ventilation. Rotoi's tilt and turn windows are designed for maximum convenience and flexibility.
Pivot windows have a central pivot point, allowing them to be opened from the center. They are an excellent choice for creating a contemporary and unique look in your home. Rotoi's pivot windows are engineered for smooth operation and durability.
Louvre windows consist of adjustable horizontal slats that can be tilted to control the amount of airflow and light entering a room. They are an excellent choice for spaces where ventilation and privacy are essential. Rotoi's louvre windows are designed to provide precise control and functionality.
Skylights and roof windows are designed to bring natural light into areas that are difficult to access with traditional windows. Rotoi's skylights and roof windows are built to be weather-resistant and energy-efficient, ensuring that your interiors are well-lit and comfortable.
Aluminium Sliding Doors
Aluminium sliding doors are an excellent addition to your home, as they offer numerous advantages in terms of aesthetics and functionality. Sliding doors do not swing open, which means they don't require extra floor space for clearance. This feature is particularly beneficial in smaller rooms or areas with limited space. These doors create a seamless transition between your indoor and outdoor spaces. They allow you to enjoy unobstructed views of your garden, patio, or landscape, enhancing the overall appeal of your home.
Rotoi offers a range of sliding door designs, from traditional two-panel configurations to multi-panel stacking doors. This versatility ensures that you can find the perfect solution for your specific needs and style preferences. Security is a top priority for any homeowner. Rotoi's aluminium sliding doors are equipped with high-quality locking mechanisms and toughened glass options, ensuring the safety of your home and family. System aluminium windows are a specialized category of aluminium windows designed for specific purposes. Rotoi offers various system aluminium windows that cater to the unique requirements of different spaces.
Why Choose Rotoi Aluminium Windows and Doors?
Rotoi is known for its commitment to quality and reliability. Aluminium windows and doors are crafted with precision and undergo rigorous testing to ensure they meet the highest standards. You can trust Rotoi products. It understands that every home is unique offering a wide range of customization options, including color choices, hardware, glazing, and frame profiles. This allows you to create windows and doors that perfectly match your style and the architectural character of your home.
With years of experience in the industry, Rotoi has honed its expertise in designing and manufacturing aluminium windows and doors. Choosing Rotoi means making an eco-friendly choice for your home. From the initial consultation to the installation and post-installation support, our team is dedicated to providing an exceptional customer experience. Your needs and preferences are taken into account at every step of the process. When it comes to enhancing your home's aesthetic appeal, comfort, and energy efficiency, Rotoi aluminium windows and doors stand out as the best choice for your home improvement.
You can completely reply on us for your needs at every step from the time you get in touch with us for your customized aluminium door & window needs. Merx Windgo LLP offers premium-quality Rotoi aluminium and uPVC doors and windows all over the world keeping in mind the safety and secure of your home.